Approximately 25% of the world's population lives in countries with highly restrictive abortion laws - mostly in Latin America, Africa and Asia. In some countries, such as in Chile, women still go to prison for having an illegal abortion, and abortion is not allowed even in cases of rape or when the pregnancy endangers the life of the woman.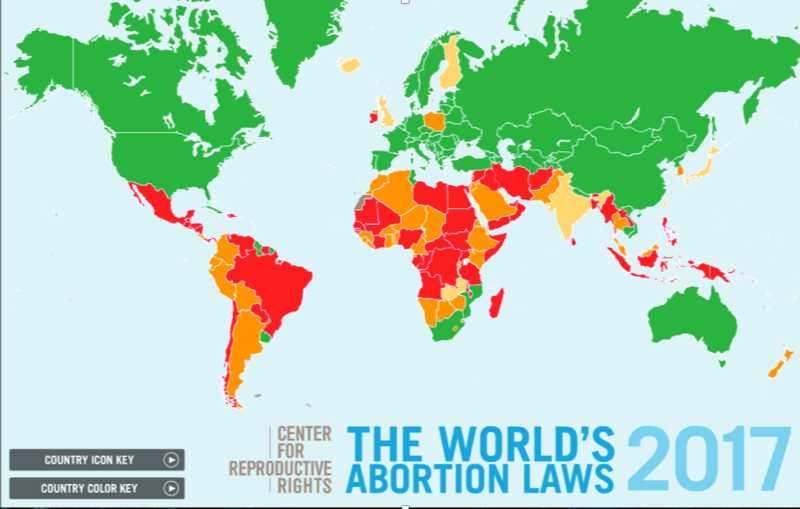 Interactive map of worldwide abortionlaws
For abortion laws in specific countries click here to see ABORTION LAWS OF THE WORLD from Harvard university
Legalization of abortion can prevent the unnecessary suffering and death of women. Restrictive abortion laws violate women's human rights based on agreements made at the UN International Conference on Population and Development in Cairo, the Fourth World Conference on Women in Beijing and the Universal Declaration of Human Rights (article 1 & 3 &12 &19 & 27.1).
Prior to the beginning of the 19th century, there were no abortion laws in existence. In 1869 Pope Pius IX declared that ensoulement occurs at conception. As a result the laws in the 19th century did not allow any termination of pregnancy. These laws form the basis of the restrictive legislation on abortion that still exist in many developing countries. Between 1950 and 1985 almost all developed countries liberalized their abortion laws for reasons of human rights and safety. Where abortion is still illegal this is often due to old colonial laws and not always an expression of the opinion of the local population.
Abortion illegal in all circumstances or permitted only to save a woman's life.
South America:
Brazil, Colombia, Chile, Dominican Republic, El Salvador, Gustamala, Haiti, Honduras, Mexico, Nigaragua, Panama, Paraguay, Venezuela,
Sub-Saharan Africa:
Angola, Benin, Central African Rep.Chad, Congo, Côte d'Ivoire, Dem. Rep. of Congo, Gabon, Guinea- Bissau, Kenya, Lesotho, Madagascar, Mali, Mauretania, Mauritius, Niger, Nigeria, Senegal, Somalia, Tanzania, Togo, Uganda.
Middle East and North Africa:
Afghanistan, Egypt, Iran, Lebanon, Libya, Oman, Sudan (r), Syria, United Arab Emirates, Yemen.
Asia and Pacific:
Bangladesh, Indonesia, Laos, Myanmar, Papua New Guinea, Philippines, Sri Lanka.
Europe:
Ireland, Malta.

Abortion legally permitted only to save a woman's life or protect her physical health.
The Americas and the Caribbean:
Argentina, Bolivia, Costa Rica, Ecuador, Peru
Sub-Saharan Africa:
Burkina Faso, Burundi, Cameroon, Eritrea, Ethiopia, Guinea, Malawi, Mozambique, Zimbabwe
Middle East and North Africa:
Kuwait, Morocco, Saudi Arabi
Asia and Pacific:
Pakistan, South Korea, Thailand
Europe:
Poland