'Arrest us': Northern Irish women want to be prosecuted for breaking abortion laws
In an open letter sent to the public prosecution service, 215 women said they have either taken abortion pills themselves or helped women procure them – which is illegal according to Northern Ireland's strict abortion laws.
The letter comes in response to a court case which began in Belfast last week, which saw a mother in her thirties accused of supplying 'poison' (known abortion pills Mifepristone and Misoprostol) for her daughter to have a miscarriage.
They are hoping to be arrested after admitting they have broken the law on abortion.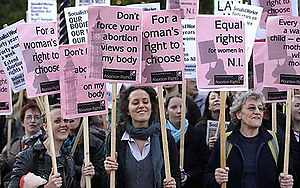 http://www.telegraph.co.uk/women/womens-life/11700651/Abortion-Northern-Irish-women-want-arrest-over-illegal-abortion-pills.html