Environ 25 % de la population mondiale vit dans des pays où la législation sur l'avortement est très stricte, principalement en Amérique Latine, en Afrique et en Asie. Ces pays sont ceux où l'avortement est le plus sévèrement réprimé par la loi. Dans certains pays comme le Chili, les femmes ayant eu recours à un avortement illégal sont emprisonnées.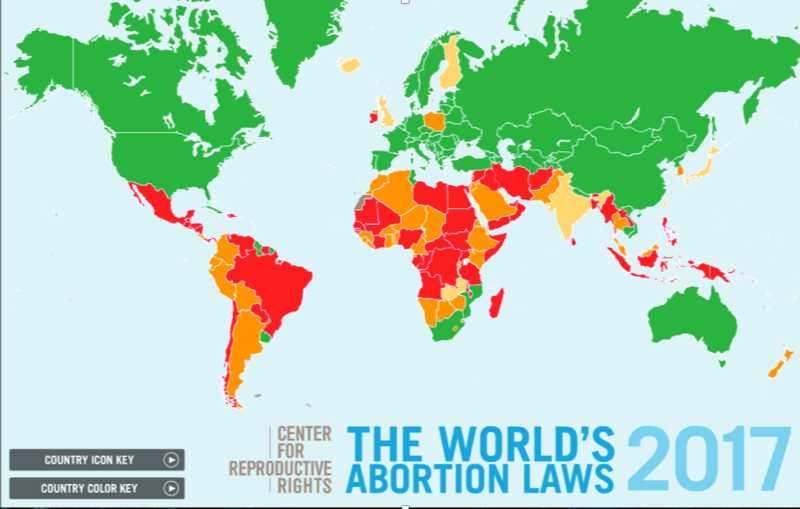 For abortion laws in specific countries click here to see ABORTION LAWS OF THE WORLD from Harvard university
La légalisation de l'avortement peut mettre fin à la mort et aux souffrances inutiles des femmes.
Les lois interdisant l'avortement violent les droits des femmes tels que définis par la Conférence des Nations Unies sur la Population et le Développement (Le Caire, 1994), la Quatrième Conférence Mondiale sur les Femmes (Beijing) et la Déclaration Universelle des Droits de l'Homme (articles 1, 3, 12, 19 et 27.1).
Avant le XIXème siècle, les lois sur l'avortement n'existaient pas. En 1869, le Pape Pie IX déclarait que l'âme était présente dès la conception. De ce fait, les lois promulguées au XIXème siècle n'autorisaient aucune interruption de grossesse. Ces lois sont à l'origine de la législation restrictive qui perdure dans certains pays en développement. Entre 1950 et 1985, la quasi-totalité des pays développés ont libéralisé leurs lois sur l'avortement pour des raisons de sécurité et pour respecter les Droits de l'Homme. Dans les pays où l'avortement est toujours illégal, c'est souvent le fait d'anciennes lois coloniales et rarement un reflet de l'opinion de la population locale.