Abortuswetgeving wereldwijd
Ongeveer 25% van de wereldbevolking woont in landen met zeer restrictieve abortuswetgeving, vooral in Latijns Amerika, Afrika en Azië. In deze landen gelden de strengste abortuswetten. In sommige landen, zoals Chili, krijgen vrouwen nog altijd gevangenisstraf voor een illegale abortus.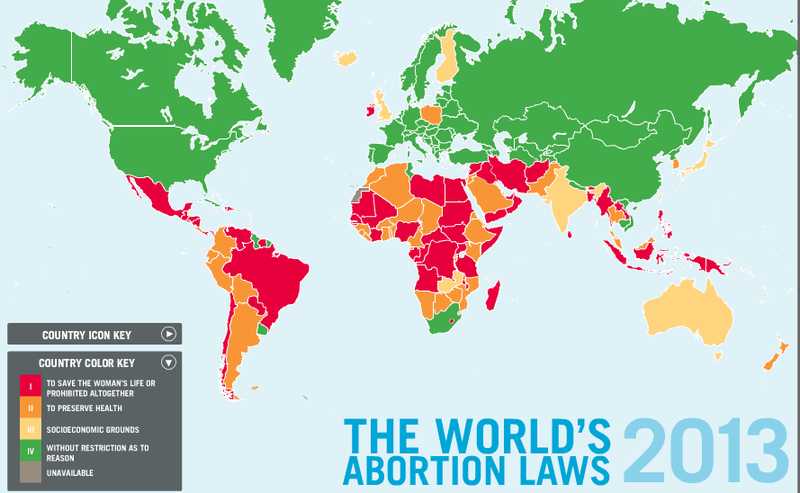 For abortion laws in specific countries click here to see ABORTION LAWS OF THE WORLD from Harvard university
Legalisering van abortus kan onnodig lijden en sterven van vrouwen voorkomen.
Restrictieve abortuswetgeving schendt het zelfbeschikkingsrecht van vrouwen, zoals dat is vastgelegd in akkoorden die zijn gesloten tijdens de Internationale VN-Conferentie over Bevolking en Ontwikkeling in Cairo, de Vierde Wereldvrouwenconferentie in Beijing en de Universele Verklaring van de Rechten van de Mens (artikel 1, 3, 12, 19 en 27.1).
Vóór het begin van de 19e eeuw bestond er geen abortuswetgeving. In 1869 verklaarde Paus Pius IX dat het leven begint bij de bevruchting. Als gevolg daarvan verboden de wetten in de 19e eeuw alle vormen van zwangerschapsafbreking. Deze wetten vormen de grondslag van de restrictieve wetgeving ten aanzien van abortus die in veel ontwikkelingslanden nog steeds bestaat. Tussen 1950 en 1985 is de abortuswetgeving in vrijwel alle ontwikkelde landen geliberaliseerd op grond van de mensenrechten en de veiligheid. Daar waar abortus nog wettelijk verboden is, is dat vaak op grond van oude koloniale wetten en is dat niet altijd een afspiegeling van de mening van de lokale bevolking.
Kleuren op de Kaart:
Abortus is onder alle omstandigheden illegaal of alleen toegestaan om het leven van een vrouw te redden.
Zuid Amerika:
Brazilië, Colombia, Chili, Dominicaanse Republiek, El Salvador, Haïti, Honduras, Mexico, Nicaragua, Panama, Paraguay, Venezuela,
Afrika ten zuiden van de Sahara:
Angola, Benin, Centraal Afrika, Tsjaad, Kongo, Ivoorkust, Dem. Democratische Republiek Kongo, Gabon, Guinea- Bissau, Kenia, Lesotho, Madagascar, Mali, Mauretanië, Mauritius, Niger, Nigeria, Senegal, Somalië, Tanzania, Togo, Oeganda,
Midden-Oosten en Noord-Afrika:
Afghanistan, Egypte, Iran, Libanon, Libië, Oman, Soedan (r), Syrië, Verenigde Arabische Emiraten, Jemen,
Azië en de Stille Oceaan:
Bangladesh, Indonesië, Laos, Myanmar, Papua Nieuw Guinea, Filipijnen, Sri Lanka,
Europa:
Ierland, Malta
Abortus is alleen wettelijk toegestaan om het leven van een vrouw te redden of om haar lichamelijke gezondheid te beschermen.
Noord- en Zuid-Amerika, de Cariben:
Argentinië, Bolivia, Costa Rica, Ecuador, Peru,
Afrika ten zuiden van de Sahara:
Burkina Faso, Burundi, Kameroen, Eritrea, Ethiopië, Guinea, Malawi, Mozambique, Zimbabwe
Midden-Oosten en Noord-Afrika:
Kuweit, Marokko, Saudi Arabië
Azië en de Stille Oceaan:
Pakistan, Zuid-Korea, Thailand
Europa:
Polen