Aproximadamente 25% de la población mundial viven en países con leyes sumamente restrictivas con respeto al aborto, sobre todo en América Latina, Africa y Asia. En algunos países, como Chile, las mujeres todavía son encarceladas si se realizan un aborto ilegal, el aborto está prohibido incluso en casos de violación o cuando el embarazo ponga en riesgo la vida de la mujer.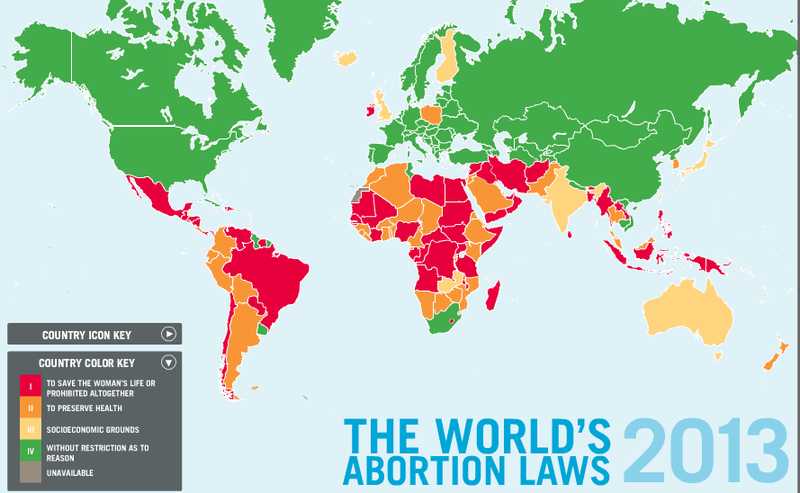 Para ver las leyes del aborto por país click here to see ABORTION LAWS OF THE WORLD from Harvard university
La legalización del aborto puede prevenir el sufrimiento y la muerte innecesarios de las mujeres. Las leyes de aborto restrictivas violan los derechos humanos de las mujeres basados en acuerdos realizados en la Conferencia Internacional sobre Población y Desarrollo en el Cairo, la Cuarta Conferencia Mundial sobre Mujeres en Beijing y la Declaración de los Derechis Humanos de las Naciones Unidas (artículos 1 & 3 &12 &19 & 27.1).
Antes del comienzo del siglo XIX, no existían leyes contra el aborto. En 1869, el Papa Pío IX declaró que el nacimiento del alma ocurre al momento de la concepción. Como resultado, las leyes en el siglo XIX no permitieron terminar con el embarazo. Estas leyes forman la base de la legislación restrictiva sobre el aborto que todavía existe en muchos países en desarrollo. Entre 1950 y 1985 la mayoría de todos los países desarrollados liberaron sus leyes abortivas por razones de derechos humanos y seguridad. En los lugares donde el aborto todavía es ilegal, esto se debe a antiguas leyes coloniales y no siempre a la opinión de la población local.
El aborto es ilegal en todas las circunstancias o se permite únicamente para salvar la vida de una mujer.
América y el Caribe:
Brazil, Colombia, Chile, Dominican Republic, El Salvador, Gustamala, Haiti, Honduras, Mexico, Nigaragua, Panama, Paraguay, Venezuela,
Africa bajo el Sahara:
Angola, Benin, Central African Rep.Chad, Congo, Côte d'Ivoire, Dem. Rep. of Congo, Gabon, Guinea- Bissau, Kenya, Lesotho, Madagascar, Mali, Mauretania, Mauritius, Niger, Nigeria, Senegal, Somalia, Tanzania, Togo, Uganda,
Medio Oriente y el norte de Africa:
Afghanistan, Egypt, Iran, Lebanon, Libya, Oman, Sudan (r), Syria, United Arab Emirates, Yemen,
Asia y el Pacífico:
Bangladesh, Indonesia, Laos, Myanmar, Papua New Guinea, Philippines, Sri Lanka,
Europa:
Ireland, Malta
El aborto se permite legalmente únicamente para salvar la vida de una mujer o para proteger su salud física.
América y el Caribe:
Argentina, Bolivia, Costa Rica, Ecuador, Peru,
Africa bajo el Sahara:
Burkina Faso, Burundi, Cameroon, Eritrea, Ethiopia, Guinea, Malawi, Mozambique, Zimbabwe
Medio Oriente y el norte de Africa:
Kuwait, Morocco, Saudi Arabi
Asia y el Pacífico:
Pakistan, South Korea, Thailand
Europa:
Poland